Keurig K-Mini is a Single Serve K-Cup Pod Coffee Brewer.
Keurig K-Mini coffee maker is in good size and easy to use. The features, the pros and cons are explored below for reference.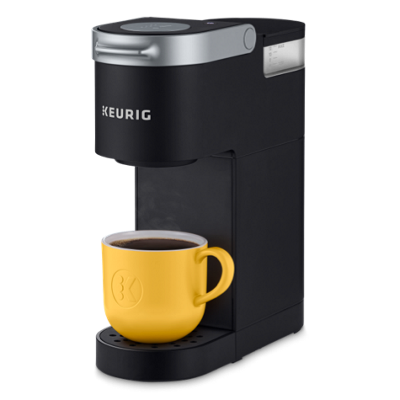 1. Product Brief Description & Feature
1.1 How large is a Keurig K-Mini coffee maker?
Fits anywhere, less than 5″ wide. And it is just 4.6 Pounds in weight.
1.2 How much could Keurig K-Mini be served each time?
6 – 12 oz
1.3 How many cups can a Keurig K-Mini serve each time?
One cup reservoir. The capacity is 0.35L. Just add water and enjoy coffee brewed with fresh water each time.
1.4 How long does a Keurig K-Mini take to brew a cup of coffee?
Delicious coffee could be served just in minutes.
1.5 What are the steps to make a cup of coffee by Keurig K-Mini coffee maker?
The human interface is Buttons. Easy to brew by just pressing buttons.
1.6 Can a travel mug be used in a Keurig K-Mini instead of a cup?
It is travel mug friendly that fits a 7″ travel mug.
1.7 Is there cord storage in a Keurig K-Mini?
A cord storage is at the back of the coffee machine for easy transport and tidy countertops.
1.8 Are there different color options of a Keurig K-Mini coffee maker?
Poppy red, black, dreamy blue, oasis, dusty rose, studio grey may be available, depending on the providers/sellers' stock and availability.
2. Is it good to use Keurig K-Mini?
2.1 Size fit in small place
It is just 5″ wide and good enough for a small space to place it. Good for office use or home use. A good option as an office coffee maker or home coffee machine.
2.2 Easy to use
Just press buttons. No complicated switches or programming.
2.3 Easy transport
It has cord storage at the back to hide the cords. In addtion, it is travel mug friendly that fits a 7″ travel mug.
2.4 Tidy & great appearance
The cord storage at the back tidies up messy cords around counterpots. Together with different color options make the coffee machine a great appearance decorating the kitchen.
2.5 Comparatively silent
It does make a little noise but nothing disruptive. It's much quieter than the steam on instant pot as well as quieter than the rice cooker, for example.
3. Cons of using Keurig K-Mini
3.1 Not as many coffee selection as those in coffee shop
No latte, mocha, flat white…
3.2 Unable to store high volume of water
Just enough for 6 oz – 12oz.
3.3 Not as many features as other Keurig coffee makers
K-Mini Plus, K-Express, K-Duo have more features such as water reservoirs.
4. Conclusion
Keurig K Mini is in good size as in many K Mini review. The small size and tidy appearance of Keurig K Mini coffee maker are attractive. It is good to be an office coffee maker or a home coffee machine as a small coffee maker.
The ease of use also makes it a good choice in this coffee machine review. Some people may feel frustrated to put coffee beans, milk, water and then need to choose among latte, mocha, flat white… different types of expresso coffee. Sometimes a coffee machine with too many options hinders users to enjoy the machine and the coffee. But this mini coffee maker just fits those who like simple and easy ways to enjoy coffee.
The cord storage is amazing as well. It shows the designers' detailed mind. Not just for travel but also ease for moving houses or moving places. The easy to store feature also makes it a good choice for occasion. Store it in a cupboard when it is not used and just put it on party tables when there are parties.
The temperature of the water is hot enough according to many positive feedbacks and the coffee is tasty.
To clean it, just do regular cleaning on the drip tray, water reservoir, pod holder, funnel, exit and entrance needles. Descaling procedure is also easy by just running the machine with water solely without coffee several times every 3-6 months.